Schools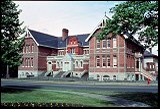 Public Schools
The Public Schools section of The Homeroom connects to major elements and features of the public school system. It includes the 1st Annual Report of the Public Schools by John Jessop (1872), organizational charts of the Department of Education, 1872-1937, a list of Ministers of Education, 1872-2006, and information about rural schools, city schools, and school districts in British Columbia.
For information on specific schools, go to the Places section of The Homeroom.
Independent Schools
Traditionally called Private Schools, schools like Shawnigan Lake School, Queen Margaret's and York House were patterned on prestigious boarding schools in Britain. This section of The Homeroom touches on the influence of elite British schools in British Columbia and provides historical material on several independent schools. It also includes historical notes on Fairbridge Farm School, a residential institution for disadvantaged children from Britain.